Nautilus leaves Submarine Force Museum for $36 million preservation project
Guests on the pier watch Friday, Oct. 15, 2021, as the Thames Towboat Co. tugboats Joh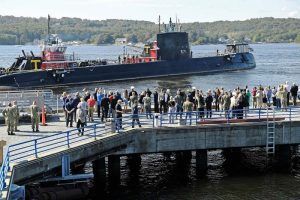 n P. Wronowski and Paul A. Wronowski move the Historic Ship Nautilus from its berth at the Submarine Force Library and Museum to Pier 15 at the U.S. Naval Submarine Base in Groton to start preservation work. The $36 million preservation project is to ensure the National Historic Landmark and Connecticut's State Ship will remain the centerpiece of the museum. The work will include dry-docking the submarine at the base and extensive work to: repair and paint the hull and superstructure; replace topside decking; inspect internal and external tanks and voids; and upgrade lighting and electrical distribution. The preservation is expected to take six to eight months. This is the first time the Nautilus has left the museum berth since a 2002 maintenance period undertaken at Electric Boat. (Sean D. Elliot/The Day)
The Thames Towboat Co. tugboats John P. Wronowski and and Paul A. Wronowski ease the Historic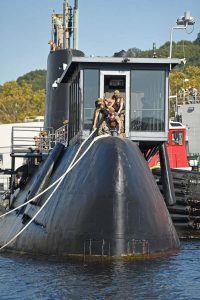 Ship Nautilus to dock at Pier 15 at the U.S. Naval Submarine Base in Groton on Friday, Oct. 15, 2021, to start preservation work. (Sean D. Elliot/The Day)
Crew members on the Historic Ship Nautilus make up dock lines Friday, Oct. 15, 2021, as the Thames Towboat Co. tugboats John P. Wronowski and and Paul A. Wronowski ease it to dock at Pier 15 at the U.S. Naval Submarine Base in Groton to start preservation work. (Sean D. Elliot/The Day)
The Thames Towboat Co. tugboats John P. Wronowski and and Paul A. Wronowski ease the Historic Ship Nautilus to dock at Pier 15 on Friday, Oct. 15, 2021, at the U.S. Naval Submarine Base in Groton to start preservation work. (Sean D. Elliot/The Day)
Guests gather on the pier as the Thames Towboat Co. tugboats John P. Wronowski and and Paul A.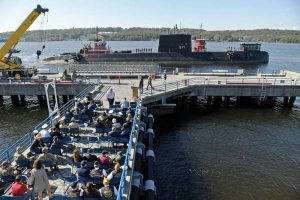 Wronowski hold the Historic Ship Nautilus in position Friday, Oct. 15, 2021, at the Submarine Force Library and Museum for a send-off ceremony before the ship is moved to Pier 15 at the U.S. Naval Submarine Base in Groton to start preservation work. (Sean D. Elliot/The Day)
UPDATED: Attack Submarine USS Connecticut Suffers Underwater Collision in South China Sea By: Sam LaGrone October 7, 2021 2:38 PM
USS Connecticut (SSN-22) arrives at Fleet Activities Yokosuka, Japan for a scheduled port visit on July 31, 2021. US Navy Photo  Updated: October 7, 2021 3:51 PM
Th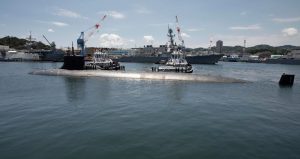 is post has been updated with additional details on the injuries to the crew of USS Connecticut and the location of the collision.
Almost a dozen sailors have been injured after a U.S. nuclear attack submarine hit an unknown underwater object in the South China Sea, USNI News has learned.
The Seawolf-class nuclear attack submarine USS Connecticut (SSN-22) suffered an underwater collision while operating in international waters on Oct. 2 and is returning to port in U.S. 7th Fleet, a U.S. Pacific Fleet spokesman confirmed to USNI News on Thursday.
"The Seawolf-class fast-attack submarine USS Connecticut (SSN-22) struck an object while submerged on the afternoon of Oct. 2, while operating in international waters in the Indo-Pacific region. The safety of the crew remains the Navy's top priority. There are no life-threatening injuries," Capt. Bill Clinton told USNI News.
"The submarine remains in a safe and stable condition. USS Connecticut's nuclear propulsion plant and spaces were not affected and remain fully operational. The extent of damage to the remainder of the submarine is being assessed. The U.S. Navy has not requested assistance. The incident will be investigated."
A defense official told USNI News about 11 sailors were hurt in the incident with moderate to minor injuries. The attack boat is now headed to Guam and is expected to pull in within the next day, the official said. The underwater strike occurred in the South China Sea and the attack boat has been making its way to Guam on the surface since Saturday, a defense official confirmed to USNI News.
The Naval Base Kitsap-Bremerton, Wash., based submarine deployed on May 27 for the Pacific, the Navy announced at the time. The service has released photographs of the submarine operating in the Western Pacific with port calls in Japan in late July and August. U.S. 7th Fleet commander Adm. Karl Thomas visited the submarine in August, according to the service.
Connecticut is one of three Sea Wolf-class boats, a late Cold War attack submarine designed to hunt the most complex Soviet submarines in deep blue water. Along with USS Sea Wolf (SSN-21) and USS Jimmy Carter (SSN-23), Connecticut is among the Navy's most capable and sensitive attack boats.
The last known instance where a submerged U.S. submarine struck another underwater object was in 2005. Then, USS San Franciso (SSN -711) struck an underwater mountain at full speed near Guam. One sailor died in the incident.
The following is the complete Oct. 7 statement from Pacific Fleet.
The Seawolf-class fast-attack submarine USS Connecticut (SSN 22) struck an object while submerged on the afternoon of Oct. 2, while operating in international waters in the Indo-Pacific region. The safety of the crew remains the Navy's top priority. There are no life-threatening injuries.
The submarine remains in a safe and stable condition. USS Connecticut's nuclear propulsion plant and spaces were not affected and remain fully operational. The extent of damage to the remainder of the submarine is being assessed. The U.S. Navy has not requested assistance. The incident will be investigated."
U.S. SUBMARINE COLLISION IN THE SOUTH CHINA SEA. IS IT A COVERUP?
Some things he is saying are familiar but is conjecture on his part. Anyone else want to add anything non-classified to this?
October 9, 2021|China, Geopolitical, Military, Military History, Russia, Submarines
U.S. Navy photo by Mass Communication Specialist Seaman Stephen W. Rowe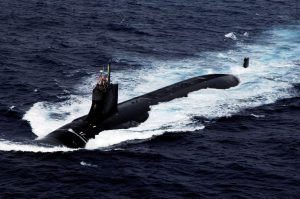 The USS Connecticut (SSN-22) collided with an unknown or undisclosed underwater object in the South China Sea on October 2, 2021. The accident damaged the Sea Wolf-class fast-attack submarine and injured nearly a dozen crew members.
The U.S. Navy said it was not another vessel, such as a Chinese submarine, but is that the truth? While writing my latest two books, Spies of the Deep and Status-6, I rode aboard the USS Connecticut during an Ice Exercise (ICEX) in the Arctic. Every few years, the Navy sends two attack subs to an ice flow about 200 miles north of Alaska, where they fight each other. During simulated battles, they fire dummy torpedoes, hide behind ice keels, and test the latest equipment and tactics under the polar ice cap. Operating in the icy north is quite different from doing so in the Pacific Ocean or South China Sea. Fresh water mingles with salt water to create strange anomalies that can affect sonar, navigation, fire (weapons) control, and other equipment. Submariners need special equipment and training to minimize accidents, including collisions. Only a few boats, including the Sea Wolf-class, can surface through thicker ice. Other subs must find thinner ice, which creates a dangerous situation. In the event of a reactor shutdown or fire, the boat can't surface until the crew finds a thin ice patch. In one ICEX, which lasts about a month, British sailors died when a fire broke out on a UK boat, and it could not surface immediately.
The USS Connecticut was likely on a stealth espionage mission in the South China Sea when it hit…something. I wrote about these missions in my books, Red November and Spies of the Deep. During the Cold War, the navy codenamed these Holy Stone. As a former submariner and navy diver, I recall nearly being killed on several of these missions. In Spies of the Deep, I wrote about a collision between my submarine, the USS Drum (SSN-677) and the K-324—a Soviet Victor-III-class submarine. We were a mile off the coast of Vladivostok harbor, well inside the Russian twelve-mile territorial limit. Like the Connecticut, we suffered damage, flooding, and injuries. The Soviets then hunted us for three days while they fired torpedoes, dropped depth charges, and pinged the ocean with sonar. The Navy denied that an incident had occurred and buried it for two decades. Have they done it again with the Connecticut?
What did the USS Connecticut hit? The South China Sea is fairly shallow, so the Connecticut may have collided with an underwater sea mount like the USS San Francisco (SSN-711) did several years ago. They might have smacked a dumped shipping container, or they could have run into a Chinese underwater installation. Tensions heated in this area after China built sand islands to lay claim to vast areas considered as international waters. The United Nations Convention on the Law of the Sea (UNCLOS) tries to draw lines around who owns what in world oceans, but the treaty—unsigned by the U.S.—is quite vague. China has its eye on trillions of dollars of natural resources in the South China Sea, including oil, gas, and minerals. They can't own these treasures if they are in international waters. Shallow patches in the region have allowed the Chinese to dump enough sand to create bases around which they can draw large circles. They claim to own all the goodies inside those circles while the U.S. and its allies call it cheating.
China defends these fake islands with their formidable navy and several new and sophisticated submarines. I can neither confirm nor deny conducting spy missions aboard a nuclear submarine during the Cold War, sneaking in close behind Chinese submarines operating out of Hainan Island. On these missions, I can't verify that subs might close to within a few hundred yards to capture Signals Intelligence (SIGINT) by recording various sounds. I can state that there have been dozens of collisions between submarines across the years. Perhaps the most famous may have caused the demise of the Russian submarine Kursk in August 2000. I wrote about this tragedy in my book Spies of the Deep and exposed a coverup between Russia and the U.S. The USS Memphis (SSN-691) and USS Toledo (SSN-769) were on Holy Stone espionage missions while trying to gain SIGINT on the new Shkval rocket torpedo being test fired by the Kursk. Evidence shows a possible collision that may have led to the demise of 118 Russian sailors.
Did something like this happen to the USS Connecticut in the South China Sea? Did they collide with a Chinese submarine or underwater installation? If so, we may never know. To this day, the U.S. Navy has never officially confirmed the collision between the USS Drum and K-324. They state that both the Memphis and Toledo were nowhere near the Kursk, despite evidence to the contrary.
When I heard about the Connecticut's recent accident, I recalled standing aboard this same submarine in the Arctic while we surfaced from beneath a thick patch of ice. A monitor in the control room displayed grainy images of the polar ice cap a few hundred feet above the sub's sail. Nervous crewmen with white knuckles gripped controls. One wrong move could be deadly. Commander Michael Varney shouted orders, which the Officer of the Deck repeated. My heart throbbed while the boat inched upward. The sail rammed through the ice with a thunderous bang. Ice keels scraped against the hull and caused loud screeching, like fingernails on a chalkboard. My ears popped as the Chief of the Watch blew the ballast tanks to push us toward the surface. The exercise lasted only minutes but felt like an eternity.
Having spent a week aboard the Connecticut, my heart goes out to the crew. I understand what it's like to hear alarm bells ring while racing to deal with a collision. I know how it feels to see fellow crew members get injured. And I recall not being able to tell a single soul, including my family, the truth about what really happened.
William Craig Reed is the New York Times bestselling author of the award-winning and Amazon-bestselling non-fiction books, Red November and Spies of the Deep, as well as the award-winning novel, Status-6: An NCIS Special Ops thriller. 

                                                        After sub accident, China demands US end free
                                                       navigation ops
2021.10.20 — China is demanding the United States stop its freedom of navigation operations in the South China Sea, and has accused the U.S. of a "stupid mistake" when one of its nuclear-powered submarines collide with an unidentified object this month.
It is the latest and strongest response made by China to Oct. 2 incident that the U.S. military publicized several days after it happened. Observers said the tough rhetoric could be a response to a recently announced defense agreement between U.S., U.K. and Australia.
It also coincided with a U.S. senate panel endorsing legislation to sanction individuals and companies involved in Chinese activities in the disputed South China Sea.
In Beijing on Tuesday, a Chinese Defense Ministry spokesman said that "China is gravely concerned" about Oct. 2 collision of the USS Connecticut (SSN-22) during a diving operation, according to a statement from the ministry.
Senior Col. Tan Kefei was quoted as saying that "being the responsible party, the U.S. has the responsibility and obligation to elaborate on the circumstances of the incident."
He also demanded that the U.S. stop its close-in reconnaissance of the adjacent seas and airspace, as well as the so-called freedom of navigation operations, or FONOPs, which the U.S. Navy has been conducting.
The U.S. military uses FONOPs to challenge "excessive maritime claims" by a number of countries worldwide, including China, according to the Pentagon.
The Pentagon has also said "as long as restrictions on navigation and overflight rights and freedoms that exceed the authority provided under international law persist, the United States will continue to challenge such unlawful maritime claims."
'Root cause'
The Chinese Defense Ministry spokesman said that "for a long time, the U.S. military has frequently dispatched aircraft carriers, strategic bombers, nuclear submarines and other advanced weapon systems to show muscles and stir up troubles in the South China Sea in the name of 'freedom of navigation and overflight'."
He said these activities "threatened regional national security and exacerbated regional tensions" and are "exactly the root cause and harm of this incident."
Tan repeated Chinese claims that the U.S. "deliberately delayed and concealed the details of the incident." He said that this behavior "could easily lead to misunderstanding and miscalculation."
The U.S. Department of Defense has denied the accusation. The U.S. Pacific Fleet issued a news release about the incident on Oct. 7, five days after the USS Connecticut struck an unknown object while operating in "international waters in the Indo-Pacific region." It said there were no life-threatened injuries to sailors and the sub's "nuclear propulsion plant and spaces were not affected and remain fully operational."
The Global Times newspaper, a branch of the Chinese Communist Party's mouthpiece People's Daily, last week cited several Chinese experts as saying that the USS Connecticut may have made "a stupid mistake" while operating undersea.
One of the experts, Li Jie, speculated that the U.S. submarine had failed to switch to "positive sonar" needed during offensive maneuvers or when navigating in areas with a complex topography, and that the U.S. was embarrassed to talk about the error.
The USS Connecticut is currently undergoing assessment and preliminary repairs at the Naval Bay in the U.S. Pacific territory of Guam while the Navy conducts an investigation into the incident.
Details remain sketchy about what would have caused such collision. Experts say it could be a shipwreck or a sunken container, or even a mobile object.
Sanctions bill
In his remarks Tuesday, the Chinese Defense Ministry also mentioned last month's announcement of AUKUS (Australia-U.K.-U.S. trilateral security pact), which is widely viewed as a pushback against growing Chinese military power in the region.
AUKUS would see Australia develop nuclear-powered submarines in the future. Spokesman Tan called it a violation of the spirit of the Non-Proliferation Treaty (NPT) and said it would trigger an arms race in the region.
In Washington on Tuesday, U.S. lawmakers took their own steps to respond to what they view as the growing threat from China.
The Senate Foreign Relations Committee advanced a bill that would impose sanctions on Chinese individuals and entities involved in activities related to China's territorial disputes in the South China Sea and East China Sea. The South China Sea and East China Sea Sanctions Act of 2021 will now be submitted for the full Senate's approval.
Still a few steps from being signed into law, the bill would require that the U.S. president impose property-blocking and visa-denial sanctions on Chinese persons and entities involved in territorial disputes in the two seas.
It would also ban U.S. entities from investing in or insuring projects involving sanctioned entities in either sea.
Republican Sen. Marco Rubio, an arch critic of China who sponsored the bill, said it would act as an additional tool "to confront Beijing as it continues its effort to unlawfully assert control over maritime territory in the South and East China Seas."
Copyright 1998-2021, RFA. Used with the permission of Radio Free Asia, 2025 M St. NW, Suite 300, Washington DC 20036. For any commercial use of RFA content please send an email to: mahajanr@rfa.org. RFA content October not be used in a manner which would give the appearance of any endorsement of any product or support of any issue or political position. Please read the full text of our Terms of Use.
New Russian nuclear-powered sub completes sea trials
August 3, 2021, by Nadja Skopljak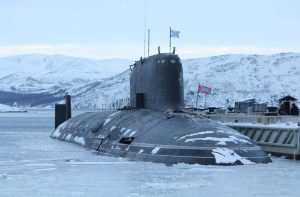 Russian Navy's nuclear-powered submarine Novosibirsk has completed its sea trials in the White Sea and has returned to the shipyard in Severodvinsk, Russian news agency TASS reported.
Photo: The Severodvinsk. Credits to the Ministry of Defence of the Russian Federation.
According to TASS, the advanced Project 885M (Yasen-M) nuclear-powered submarine returned to the Sevmash shipyard on 2 August after one-month sea trials.
It has been reported that Novosibirsk will undergo state trials next. The submarine is expected to be delivered to the Russian Navy late this year.
The nuclear-powered submarine Novosibirsk is the Project 885M (Yasen-M) first serial-built vessel floated out in December 2019.
With a submerged displacement of 13,800 tons, Project 885M submarines are armed with 24 Oniks (SS-N-26) and Kalibr (SS-N-27) cruise missiles in addition to torpedoes. They are reportedly one of the quietest submarines to be operated by Russia.
The first submarine in the class, Severodvinsk, was delivered to the Russian Navy in 2013, twenty years after it was laid down in 1993. Following sea trials, the submarine was commissioned in 2014.
U.S. Navy starts work on next-generation SSN(X) attack submarine for anti-submarine warfare (ASW) operations
Oct. 20, 2021
Navy leaders say they plan to procure the service's first SSN(X) attack submarine in 2031, with follow-on orders beginning in the mid-2030s.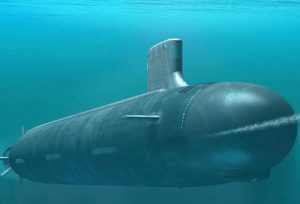 WASHINGTON – Coming soon: the SSN(X) next-generation attack submarine. With that, the U.S. Navy appears to be ramping up the technology and weaponry for this new underwater weapon of war. 1945 reports. Continue reading original article
The Military & Aerospace Electronics take:
20 Oct. 2021 — The new work on SSN(X) is coming at a time when the United States is confronting increased competition with China and its fast-growing navy forces, which Pentagon leaders say is the largest on the planet.
Navy officials say the SSN(X) will possess a renewed priority in the anti-submarine warfare (ASW) mission against sophisticated threats in greater numbers, and will be able to defend itself against unmanned underwater vehicles.
The new SSN(X) boats would take the best features of the Navy's three previous submarines: the Seawolf- and Virginia-class attack submarines, and the still-in-development Columbia-class ballistic-missile submarines.
Related: Shipboard electronics steams into the 21st century
Related: Navy pushes for more ships, technology breakthroughs
Related: Lockheed Martin to build anti-submarine warfare (ASW) systems, hull-mounted sonar, for counter-mine warfare
John Keller, chief editor
Military & Aerospace Electronics
Manta ray-shaped unmanned underwater vehicle (UUV) undergoes sea test for future Chinese reconnaissance
Oct. 7, 2021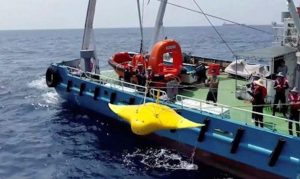 UUV can dive to 3,300 feet, will play an important role in marine environmental protection, and likely will be used for military purposes, too.
XI'AN, China – Chinese researchers from a military-linked university have completed the first open sea test in the Paracel Islands of a bionic robot that looks and swims like a manta ray, Chinese media reported. Eurasia Review reports. Continue reading original article
The Military & Aerospace Electronics take: 7 Oct 2021 — Countries disputing China's claims in the South China Sea will be watching closely the development of this sophisticated drone.
The state-run China Daily quoted developers from the Northwestern Polytechnical University (NWPU) in Xi'an, China, as saying that this bionic unmanned underwater vehicle (UUV) has dived deeper than 3,300 feet, including gliding and flapping wing propulsion. They added that it would "play an important role in marine environmental protection."
The NWPU, which built the manta ray-shaped UUV, is listed by the U.S. Department of Justice as "a Chinese military university that is heavily involved in military research and works closely with the People's Liberation Army (PLA) on the advancement of its military capabilities."
Related: Three U.S. contractors to develop energy management, navigation, for unmanned underwater vehicles (UUVs)
Related: Hydronalix developing buoy for unmanned underwater vehicle control and communications
Related: EDO to build naval electronics for Raytheon
John Keller, chief editor
Military & Aerospace Electronics
U.S. Navy sonar-towing unmanned surface vessel (USV) appears in San Diego Harbor for anti-submarine warfare (ASW)
Sept. 30, 2021
Speed separates Catbus from the Wave Glider from Liquid Robotics — a 10-foot unmanned vessel that has unlimited endurance, but sails at 1.5 knots.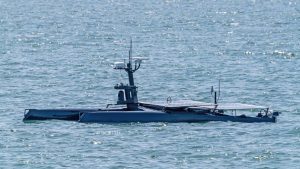 SAN DIEGO – A new type of unmanned surface vessel (USV) identified by the MarineTraffic reporting system as 'USV Catbus' has been sighted in San Diego harbor. Forbes reports. Continue reading original article
The Military & Aerospace Electronics take:
30 Sept. 2021 — This vessel presumably for anti-submarine warfare (ASW) and similar surveillance applications seems to be a previously unseen U.S. Navy project, similar to the mysterious Wave Glider craft that have washed up in Scotland and elsewhere, but with one big difference: it's fast.
Twitter user @cjr1321 is a photographer who takes pictures of shipping in San Diego. Having spotted the unusual craft from a distance on Sept. 13, he decided to get a closer look.
The craft is about 18-feet long, and powered by an array of solar cells. It can withstand waves of about three feet, so it is not intended for operations in rough seas, and the vessel can fit into a shipping container for rapid transfer anywhere in the world. It will tow a small sonar acoustic array and travels as fast as 13 knots.
Related: Navy orders AN/SQQ-89 surface ASW undersea warfare systems for cruisers and destroyers
Related: New ship takes lead in countermine and anti-submarine warfare
Related: UUVs hit their stride
John Keller, chief editor
Military & Aerospace Electronics
Laser Submarines: A Paradigm Change For the U.S. Navy
Navy subs will become giant batteries, supplying juice to power-hungry lasers, or underwater platforms, or equipment used by special operations forces.
by Michael Peck
Here's What You Need to Know: If the Navy can develop electrical hull connectors, power generation and other systems needed for a submarine-mounted laser weapon, the potential could be enormous. A stealthy submarine emerging from the depths to fire a surprise laser shot could be devastating.
Will U.S. Navy submarines be armed with laser weapons?
That's the implication of a new Navy research project.
At first glance, the project seems fairly routine engineering: developing connectors that will allow transmission of hundreds of kilowatts of electricity through a submarine's hull.
But what's interesting is what all that electricity will be used for. "The Navy seeks technologies for transmitting high electrical power required for operating Directed Energy (DE) weapon systems from inboard the submarine to an outboard DE system, submersible platform, special operation, etc.," states the research proposal.
In other words, Navy subs will become giant batteries, supplying juice to power-hungry lasers, or underwater platforms, or equipment used by special operations forces. But first, the Navy must develop an electrical connector embedded in the sub's hull. "Currently, the Navy needs to tow the generator to support a similar system," the proposal notes.
Yet the fact that the proposal mentions an "outboard" directed energy weapon is interesting. "By 'outboard,' the proposal could mean a system attached externally to the submarine, but that is only connected to the inside of the submarine via external hull penetrators," says Bryan Clark, a former Navy submarine officer who is now an analyst for the Center for Strategic and Budgetary Assessments think tank. "These penetrators are electrical connectors that provide an electrical circuit between the inside and outside of the submarine, but that are built into the hull so cables do not need to pass through the hull."
This would allow an external laser to be mounted on the submarine. "A laser could be mounted to the submarine outside the pressure hull," Clark says. "For example, it could be in the sail, which is normally flooded when the submarine is submerged. Mounting in the sail could allow the laser to be used above the water to dazzle optical sensors or damage manned or unmanned aircraft."
Other possibilities include a mast-mounted laser. "Either the laser could be in a mast or it could be in the sail and the sub would have to surface at least partially," Clark explains. "As opposed to a gun or missile, a laser can be configured such that the laser generator is vertically aligned along the inside of the mast, and the laser light could be sent to the beam director via mirrors."
Indeed, Optical Physics Company, a California-based technology firm, has designed a beam director—which steers the beam toward the target—for a mast-mounted submarine laser. "OPC has designed such a beam director with the right form factor for insertion into a submarine mast," says the description on the company's Web site. "This beam director can track the target and aim an approximately 12-inch diameter beam onto the target. The beam director can optionally contain adaptive optics components to condition the wavefront of the HEL [high energy laser] beam and compensate for the atmospheric distortions that reduce beam effectiveness in a maritime environment."
If the Navy can develop electrical hull connectors, power generation and other systems needed for a submarine-mounted laser weapon, the potential could be enormous. A stealthy submarine emerging from the depths to fire a surprise laser shot could be devastating.
"Above the water, a 100-300 kilowatt laser would be powerful enough to destroy small UAVs, damage larger aircraft, damage optical sensors, or defeat slow anti-ship missiles," Clark says. "Underwater, a laser could be used for communications, but that would only work at specific frequency ranges and would require much lower power levels."
Michael Peck is a contributing writer for the National Interest. He can be found on Twitter and Facebook.
Putin launches construction of new nuclear subs and warships
By Vladimir Isachenkov, The Associated Press
Aug 23, 01:24 PM
MOSCOW — Russian President Vladimir Putin on Monday launched the construction of new nuclear submarines and other warships, part of a sweeping military modernization effort amid tensions with the West.
Speaking in a video call, Putin gave orders for two nuclear submarines armed with intercontinental ballistic missiles along with two diesel-powered submarines and two corvettes at shipyards in Severodvinsk, St. Petersburg and Komsomolsk-on-Amur.
"We will continue to boost the potential of the Russian Navy, develop its bases and infrastructure, arm it with state-of-the-art weapons," Putin said. "A strong and sovereign Russia needs a powerful and well-balanced navy."
The Kremlin has made military modernization a top priority as relations with the West have plunged to post-Cold War lows after Russia's 2014 annexation of Ukraine's Crimea. Moscow has sought to reestablish a regular naval presence in parts of the world that the Soviet Union had during the Cold War.
The Russian Navy already has a major presence in the Mediterranean Sea, with a naval base in the Syrian port of Tartus. It has expanded and modified the Tartus base, the only such facility that Russia currently has outside the former Soviet Union.
"We will continue to show the Russian flag in strategically important ocean areas," Putin said.
Monday's ceremony for the new ships was part of the Army-2021 show intended to showcase military might and attract foreign customers for Russia's arms industries. The weeklong show features aircraft, tanks, missiles and other weapons.
"Many of our weapons have the capabilities that have no analogues in the world, and some will remain unrivaled for a long time to come," Putin said.
A 'persistent, proximate threat': Why the Navy is preparing for a fight under the sea
Sep 10, 02:44 AM
The Los Angeles-class attack submarine Houston completes an exercise with Japan in the Northeast Asia Pacific region. (MC3 Casey H. Kyhl/Navy)
As Russia and China bolster their own submarine fleets and capabilities, the U.S. Navy has renewed its focus on undersea threats and has labeled anti-submarine warfare a priority for all sailors — and perhaps some Marines, too.
In August, Russian President Vladimir Putin announced plans to acquire two nuclear submarines equipped with intercontinental ballistic missiles, and two diesel-powered submarines And China, which owns four ballistic missile submarines, boasts a force of 50 diesel-electric attack submarines, the Nuclear Threat Initiative reported in February.
To counter these threats, the Navy reactivated its 2nd Fleet in 2018 to focus on threats from Russia — including those under the ocean — and more recently it has held exercises to improve its ability to fight enemy submarines.
"This is where the fight is … where the competition is," retired Vice Adm. Andrew Lewis, then the commander of U.S. 2nd Fleet, told reporters in September 2020
"Anti-submarine warfare is a primary mission for everybody in the United States Navy, regardless of what you wear on your chest," Lewis said.
In recent years, Navy leaders have cautioned about increased Russian undersea activity in the Atlantic Ocean, and have warned that the continental United States is no longer a sanctuary safe from such threats.
"Over the past several years, we've realized that there is a persistent proximate threat in the western Atlantic, primarily from Russian Federation Navy Forces, that has drawn a lot more attention due to the challenges that poses to our homeland defense," Rear Adm. Brian Davies, commanding officer of Submarine Group 2 and deputy commander of the 2nd Fleet, told Navy Times.
"Specifically, Russian submarines now have advanced cruise missiles that have the range and accuracy to strike military and civilian targets throughout the U.S. and Canada and as a result, we put a lot more focus in the area of theater undersea warfare," Davies said.
Although the Russian submarine fleet is dramatically smaller than it was at the height of the Cold War, it still has 11 ballistic missile submarines and 17 nuclear-powered attack submarines, according to the Nuclear Threat Initiative. These ballistic missile submarines are capable and technologically on par — at least in some ways — with the U.S. submarine fleet, said Bryan Clark, a retired submarine officer and a senior fellow at the Hudson Institute.
"You've got this numbers challenge from the China side, the capability challenge from the Russian side, which in some ways demands different approaches to anti-submarine warfare, but it creates for both cases a big problem," Clark said.
Bryan McGrath, a former destroyer captain who runs the FerryBridge Group, a defense consulting firm, noted that while the Chinese fleet is not as technologically advanced nor as capable as the Russian fleet, they do have a "ridiculously capable shipbuilding base" that's churning out submarines.
The undersea threat has become critical now, given the investment Russia and China have made into expanding their submarine forces, McGrath said.
"Bottom line for why now is that both of our major competitors are putting money, resources and technology into this domain," McGrath said.
Why the Navy re-established the 2nd Fleet
When the U.S. 2nd Fleet was dissolved in 2011 amid the war on terror, undersea warfare was put on the backburner. But the command was resurrected in 2018 in response to greater levels of Russian activity in the North Atlantic and Arctic, including undersea.
For the same reason, NATO's Joint Force Command Norfolk was stood up and the command reached full operational capability in July 2021. According to Lewis, who was also the commanding officer of JFC Norfolk, the command "creates a link between North America and Europe and helps to further develop the desired 360-degree approach for our collective defense and security."
It is the only operational NATO command on the North American continent, and has air, surface and subsurface capabilities.
The Navy also revived Submarine Group 2 in September 2019 to streamline the Navy's ability to command and control undersea warfare assets in the Western Atlantic.
RELATED
As new NATO command becomes fully operational, top US military officer issues warning over 'great power war'
Gen. Mark Milley, chairman of the Joint Chiefs, says Joint Force Command Norfolk and NATO are responsible for ensuring another world war never happens.
Similar to combatant commands, the Navy has theater undersea warfare commanders in Naples, Italy, working with the 6th Fleet, and a theater undersea warfare commander in Yokosuka, Japan, working with 5th Fleet and 7th Fleet. Still another in Pearl Harbor works primarily with the 3rd Fleet. But that same structure was absent for 2nd and 4th Fleet, Davies said.
"We really didn't have a theater undersea warfare commander that was dedicated to a fleet on this side of the Atlantic serving, basically, NORTHCOM and U.S. Fleet Forces Command, and that made it a natural fill in," Davies said, referring to SUBGRU2.
The command will soon celebrate its second anniversary, and recently became the organization responsible for training and certifying the other theater undersea warfare commanders to ensure they are fully trained, have all the necessary equipment they need and have the appropriate personnel.
"The command, although not in final operating capability yet, is getting closer every day as we get to train and exercise like we would one day fight," Davies said.
RELATED
US, NATO allies start anti-submarine warfare exercise Dynamic Mongoose
"Exercises today seize opportunities for NATO and Allied nations to sharpen warfighting skills."
The Navy had the opportunity to do just that while honing its undersea warfare skills in a new exercise called Black Widow — which just wrapped up its second iteration in August. The exercise aimed to explore new tactics, techniques and procedures, and refine existing ones, Davies said.
Specifically, the exercise relied on a mixture of scripted scenarios, coupled with cutting edge technologies and existing force structure technology that will be used for the next decade, Davies said.
While many of the concepts tested were classified, Davies said "our tactics, techniques and procedures really centered on finding an undersea threat that was very adept at using the environment and the topography to their advantage."
The Undersea Warfighting Development Center in Groton, Connecticut, is responsible for establishing the exercise's objectives, and will then use the data collected from Black Widow to provide an assessment of the exercise.
Those results will then be shared with the Naval Aviation Warfighting Development Center and the Naval Surface and Mine Warfighting Development Center, he said.
"One of the things that the Navy can continue to work on is looking for every available opportunity to train together as this system of systems or team of teams, however you want to refer to it," Davies said.
"When we have available bandwidth, we ought to be continuing to scratch and claw for every opportunity to get out there and work together in advancing this art of undersea warfare," Davies said.
Will the Marine Corps get involved in anti-submarine warfare?
Although the U.S. Navy has historically been the service primarily responsible for anti-submarine warfare, that could change since the Marine Corps wants to become involved.
Commandant Gen. David Berger said in November it's imperative for the Marine Corps to step in and suggested the service could provide logistics support and air defense as ways to counter the undersea threat.
"The undersea fight will be so critical in the High North and in the western Pacific that the Marine Corps must be part of it," Berger wrote in a U.S. Naval Institute article from November 2020.
Specifically, Berger proposed that the Marine Corps deploy to bases in the Atlantic's North Sea or the South China Sea to restrict the movement of Russian or Chinese submarines in the event of undersea war.
"By offering forward logistics and support, as well as sensor and strike capabilities, Marine expeditionary advanced bases (EABs) could make a significant contribution to undersea warfare campaigns, including holding Chinese and Russian submarines at risk," Berger said.
These EABs could also house Navy P-8A Poseidons and MH-60R Seahawks, and the Marine Corps could offer air-defense and logistical support for these aircraft, Berger said.
Another role the Marine Corps could assume is operating unmanned aerial vehicles outfitted with anti-submarine warfare sensors and sonobuoys, and then "deploy and operate passive and active acoustic arrays in adjacent littoral waters," Berger said.
"In the event of hostilities, when cued by these organic sensors or other joint ISR capabilities, EABs could harass and potentially neutralize Russian submarines with ground-launched ASW missiles or light torpedoes from Marine aircraft," Berger said.
McGrath agreed there's benefit in having Marine EABs equipped with a series of launchers with land-attack weapons, along with weapons that could sink ships and take down ballistic missiles, as part of a larger architecture within the joint force.
But McGrath has reservations about the Marine Corps becoming too involved in undersea warfare, given the cost of purchasing anti-submarine warfare platforms like P-8 Poseidons and Virginia-class submarines.
"Anti-submarine warfare is a science and an art and it's difficult, and it is a mission that pretty much only the United States Navy does within the Joint Force," McGrath said.
"There's a lot of money that goes into that, and I want the Marine Corps busy doing Marine Corps things," McGrath said. "And I don't think finding submarines is among them."
Clark believes the Navy first must get down to business incorporating unmanned systems before the Marine Corps jumps in to tackle anti-submarine warfare.
"The Navy's going to have to first work through the use of unmanned systems to a greater degree, because the Marines aren't going to be doing anti-submarine warfare unless they're able to tap into what unmanned systems are going to be doing for the sensing," Clark said.
The role of unmanned vehicles
Experts believe one solution to modernize anti-submarine warfare is to use autonomous systems to track, trail and potentially engage enemy submarines to neutralize the threat, which would then free up other resources like destroyers for other tasks and cut down on operating costs.
"The unmanned systems give you this ability to do persistent anti-submarine warfare, at a lower cost in peacetime than your manned systems," Clark said.
According to a report from the Hudson Institute issued in September 2020, the U.S. Navy's anti-submarine warfare approach likely can't contend with undersea threats in the event of a conflict or crisis.
The report detailed how the Navy currently relies on a complex web for anti-submarine warfare involving seabed sensors, maritime patrol aircraft, destroyers and ultimately, submarines. But that approach could become challenging in the event these manned platforms are required elsewhere — such as in a time of crisis, the report said.
RELATED
With the submarine threat on the rise, the US Navy looks to autonomous water sensor drones
The Navy is upgrading its fleet of underwater sensing drones.
By David Larter
This strategy could also run into problems if enemy submarines were to overwhelm an area. In addition, the cost of operating systems such as a destroyer and a P-8 Poseidon aircraft could become too expensive if there's a persistent need during periods of flat or declining budgets, the report says.
For example, Clark said it is cheaper to purchase a medium unmanned surface vessel than a destroyer, and then use the unmanned vessel either infrequently or not at all. However, in the event of a conflict, that medium unmanned surface vessel could be deployed while destroyers are conducting other engagements not related to anti-submarine warfare, he said.
"ASW is really a lot of searching around and following and chasing submarines," Clark said. "It's not like air defense where it happens very quickly, and so it's more like just a long-term surveillance mission. So, in peacetime, it is a lot of just waiting around for a submarine to come by, detecting the submarine, and then following the submarine."
The report called for using unmanned systems, including medium unmanned surface vessels and medium-altitude long endurance unmanned aerial vehicles like the MQ-9B SeaGuardian, but noted that not all of the systems it cited are employed operationally yet As a result, the report suggests that this unmanned approach could occur over the next five to 10 years to allow such systems to mature.
The Navy has focused on developing drones that could participate in anti-submarine warfare, and has started to test out unmanned systems that could be used in tracking submarines.
In November 2020, during the development process for the MQ-9B SeaGuardian drone, the Navy and General Atomics deployed 10 sonobuoys from an MQ-9A Block V Reaper and tracked a simulated submarine target.
Never before had an aerial drone dropped a self-contained anti-submarine warfare system. The testing "paves the way" for additional development of more anti-submarine warfare capabilities from MQ-9s, according to General Atomics.
What's next for the Navy?
Safe havens don't exist anymore, and that means the Navy must be poised to carry out combat near its home turf, according to Vice Adm. Daryl Caudle, the head of Submarine Force Atlantic.
"Russia took a knee for over a decade and allowed a lot of folks to think the homeland is a sanctuary from Russian forces," Caudle told reporters in September 2020. "Our homeland is no longer a sanctuary. We have to be prepared to conduct high-end combat operations in local waters."
If faced with a crisis or outright hostilities, Clark envisions Russia capitalizing on its submarine force, including threatening the continental United States or heading toward Naval Submarine Base Kings Bay in Georgia to harass U.S. ballistic missile submarines trying to get in or out of port.
Meanwhile, the Chinese's large submarine fleet would likely try to "flood the zone" to overwhelm U.S. undersea warfare assets, threaten U.S. Naval forces with attack, or try to blockade Guam or Taiwan, he said.
"For the U.S., going against the Chinese, the goal is just keep them away from ships," Clark said. "It doesn't matter if they continue to operate or not, as long as they stay away from the ships."
"Whereas with the Russians, there may be a need to actually sink those submarines because they will — once they get towards the East Coast — they're going to be a constant threat," Clark said.
McGrath is worried that the type of equipment to deal with these potential threats won't receive adequate support in future budgets. The Navy's proposed budget for fiscal 2022 includes a request for two Virginia-class attack submarines with a topline budget of $211.7 billion — an overall increase of $3.8 billion from what was enacted in FY2021.
Chief of Naval Operations Adm. Michael Gilday has emphasized that the service can afford a fleet of approximately 300 ships, but has said that the request aligns with the U.S. Navy's future fleet design plans.
RELATED
US Navy inks deal for a tenth Virginia-class submarine
The U.S. Navy sealed the deal on a 10th ship in its latest iteration of the Virginia-class attack submarine, issuing a $2.4 billion adjustment on a contract initially awarded in December 2019.
By David Larter
"My fear is that the expense associated with building the Navy that seriously contends with these threats will not receive the attention it deserves, in and among all of the other priorities that our nation seems to have," McGrath said.
For the future, McGrath suggested the U.S. build unmanned acoustic sensors, both for undersea and surface vessels, and for the Navy to acquire more P-8 Poseidon aircraft and attack submarines. That's what "we do better than anyone else in the world is attack submarines," he said.
"That advantage is something that I think we need to never forget, we need to continue to invest in, and we need to double down on."
Navy Breaks Ground on New Multi-Mission Dry Dock
US Navy
08 September 2021
From Portsmouth Naval Shipyard
PORTSMOUTH NAVAL SHIPYARD, Maine — Portsmouth Naval Shipyard held a groundbreaking ceremony Wednesday, September 8, for the multi-mission dry dock project.
Secretary of the Navy Carlos Del Toro served as the keynote speaker. United States Senators Susan Collins and Angus King of Maine, and Jeanne Shaheen, and Maggie Hassan of New Hampshire attended the ceremony, along with United States Representative Chris Pappas (NH-01).
The Dry Dock 1 area was originally built during World War II to supplement submarine production, and this $1.7 billion, 7-year construction project will modernize the historic dry dock, enabling Portsmouth Naval Shipyard to meet the Navy's needs for decades to come. The multi-mission dry dock provides increased capacity for accommodating three Los Angeles or Virginia-class attack submarines at once for repair, maintenance, and modernization.
"Our Sailors and Marines put themselves in harm's way every day to protect our national security interests … we owe it to them to be the best prepared and equipped force in the world," said Del Toro.
Emphasizing the growing threats around the world, Del Toro expressed how a robust Navy plays a vital role today and in the future. "This is a significant investment by the American people, and because of this investment, they can sleep more securely, because they'll know our attack fleet can rely on quick and available maintenance and repair."
Portsmouth Naval Shipyard's Commander Capt. Daniel Ettlich emphasized the significance of the contract as the "largest and most complex project ever" awarded by Naval Facilities and Engineering Systems Command (NAVFAC). "Today's groundbreaking cements the future of Portsmouth Naval Shipyard and the future of our submarine force."
The project is part of the Shipyard Infrastructure Optimization Program (SIOP), which is a joint effort between Naval Sea Systems Command, NAVFAC, and Navy Installations Command to recapitalize and modernize the infrastructure at the Navy's four public shipyards. The agenda includes repairing and modernizing dry docks, restoring shipyard facilities and optimizing their placement for efficiency, and replacing aging and deteriorating capital equipment. For more information about SIOP, visit https://www.navsea.navy.mil/Home/Shipyards/SIOP/.
Portsmouth Naval Shipyard is America's leader for attack submarine maintenance, repair, and modernization. The on-time completion of submarine availabilities is critical to maintaining the U.S. Navy's maritime superiority. As a NAVSEA-operated field activity, Portsmouth is committed to expanding our undersea advantage and maximizing the material readiness of the fleet by safely delivering first-time quality, on time, and on budget.
 South Korea successfully test-fires homegrown submarine-launched ballistic missile: Report
Iran Press TV
Tuesday, 07 September 2021 7:28 AM
South Korea has reportedly carried out a successful test of a homegrown submarine-launched ballistic missile, becoming the world's eighth country to have developed SLBM technology and the first without nuclear weapons to do so.
South Korea's Agency for Defense Development last week carried out underwater ejection tests of the submarine-launched ballistic missile (SLBM) from a new locally-developed 3,000-tonne class submarine, the South's Yonhap news agency reported Tuesday, citing sources.
The SLBM is believed to be a variant of the country's Hyunmoo-2B ballistic missile, with a range of around 500 kilometers. Equipped with six vertical launch tubes, it will be mass produced for deployment after another round of tests, the report said.
The South's Defense Ministry refused to confirm the report due to security reasons.
"Our military secures advanced high-powered military assets to ensure peace on the Korean Peninsula by building strong military capabilities, and plans to continue to develop them," the ministry said in a statement.
SLBMs, which are harder to detect as they are launched from submarines for surprise strikes, have been developed by only a handful of countries, including the United States, Russia, China, Britain, France, India, and North Korea.
Japan says suspected Chinese submarine seen near territorial waters
© Reuters/KIM KYUNG-HOON FILE PHOTO: Japan's Defense Minister Nobuo Kishi attends a news conference in Tokyo
TOKYO (Reuters) -Japan's defense ministry said on Sunday that a submarine believed to be from China was spotted in waters near its southern islands, as maritime tensions persist in the Pacific.
Japan's navy on Friday morning identified a submerged vessel sailing northwest just outside territorial waters near Amami Oshima island, part of Kagoshima prefecture, the ministry said in a statement. A Chinese destroyer was also spotted in the vicinity.
Tokyo has complained https://www.reuters.com/article/uk-japan-china-navy-idUKKBN26W0BF of numerous intrusions by Chinese vessels of its territorial waters and near disputed islands in recent years. China has often reacted angrily to U.S. ships sailing through disputed areas of the South China Sea in what Washington calls displays of freedom of navigation https://www.reuters.com/world/china/china-says-drove-away-us-warship-schina-sea-2021-07-12.
Senior Chinese diplomat Wang Yi, visiting Vietnam during a Southeast Asia trip, said those two countries should refrain https://www.reuters.com/world/china/china-vietnam-should-avoid-magnifying-s-china-sea-disputes-chinas-wang-yi-
2021-09-11 from unilateral actions regarding the South China Sea that could complicate and magnify disputes.
Sunday's announcement said Japan's Maritime Self-Defense Force identified the vessels in a contiguous zone, which is outside territorial waters where vessels are required to identify themselves. Still, Defense Minister Nobuo Kishi instructed his staff "gather information and maintain vigilant surveillance with a sense of urgency," the statement said.
Officials at the Chinese embassy could not immediately be reached for comment on Sunday.
The submarine continued underwater westward in the ocean near Yokoate Island, the ministry said.
(Reporting by Rocky Swift in Tokyo; Editing by William Mallard)
Part of briefing by the John Bud Cunnally ETC (SS) Ret. USN – President in international submarine associations